AlkaViva Venus Water Ionizer
$1,295.00
Venus now replaced with new and improved Melody 11 - and at reduced price of $1595!
Comes with Limited LIFE Time Warranty AND
30 day money back guarantee!

We ship this ionizer with a FREE upgrade - the patent pending UltraWater filter. A $109.95 Value!
Read more Here


This Unit is the Best-Value,
Mid-Range, Water Ionizer:

Great Range of Output
Stylish Upright Look
Unbeatable Filtration
Unbeatable Value with Uncompromised Efficiency
Easy Touch Button Controls
If you've been shopping around, tell us what other model performs so well at this price.

We are the leading AlkaViva distributor and since 2007 have enjoyed an A+ Better Business Bureau. We guarantee caring and professional service.

The NEW AlkaViva Venus
For a large size image of the Venus water ionizer Please Click Here
This exciting addition to the AlkaViva family replaces the popular Microlite and has all the features that anyone would ever need in an above counter water ionizer.
Ease of use and exceptional performance come with the latest touch button technology at an amazing price.
Enjoy the security of a Limited Lifetime Warranty plus 30 day money back guarantee!
Price includes FREE delivery in USA and Canada

What makes the Venus the best value and most contemporary water ionizer now available?
Electrolysis Chamber (Water Cell)
The water cell is the heart of all AlkaViva ionizers. Manufactured in Japan to standards that makes our manufacturers the choice for large corporations such as LG, Samsung, Toyo and Hyundai - your Venus is guaranteed to not only make ideal alkaline and acid water but to continue to make the same quality water year after year. That is why AlkaViva was the first company to offer a life time warranty plus free shipping if any repair was required.
Our manufacturer has used a proprietary matting between the Venus cell electrodes. With any water ionizer, it is essential that this material allow water to pass during ionization. What can happen, however, is that, unless there is an automatic cleaning cycle, very hard water will leave deposits on this material and eventually lower its transfer efficiency. The new proprietary matting used in the Venus water cell is extremely resistant to mineral deposits. Lime, iron, and other minerals are "sloughed off" enabling better ionization for a long period of time.
The inner structure of the Venus water cell also creates an excellent acid from alkaline water separation. This enhanced segregation between alkaline and acid water results in efficient ionization as well as better isolation of any remaining chlorine or fluoride. This combination of efficient draining, improved matting, and revised inner structure enables the Venus to operate very efficiently on only one clean cycle of 10 seconds per every 20 liters.

User Controls

The Venus controls have been designed with the Western kitchen in mind.
The new control panel is membrane sealed making it easy to clean. A gentle touch on the buttons is all that is needed to change any setting.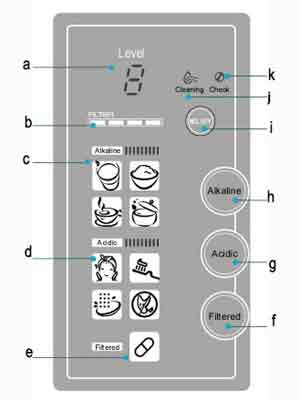 a
- Shows the different level of acid or alkaline
b
- Gives an estimate of filter life - when last bar turns red it is time to order a new filter
c
- Alkaline Water Indicator - illuminates when alkaline water is selected
d
- Acid Water Indicator - illuminates when acid water is selected. A tune will always play when acid is selected or when Venus is in clean mode
e
- Filtered Water Indicator - illuminates when filtered water is selected (filtered is clean but neither more acidic or alkaline)
f
- Press this button for filtered water to come out the flexible drinking water hose
g
- Press this button for acidic water to come out the flexible drinking water hose
h
- Press this button for alkaline water to come out the flexible drinking water hose
i
- Turns the sounds on and off. Also volume level can be adjusted
j
- Lights up when units is self cleaning - auto clean for 10 seconds every 20 liters
k
- When this lights up unit needs to be serviced

Flow Control Knob
This special feature has been, until now, only available on much more expensive ionizers. This enables you to control the flow of water easily on your ionizer which in turn affects the strength of the alkaline water and -ORP. The slower the water flow the more time the water has to be altered by the ionization process. However, you will find that in almost all cases there will not often be a reason why you would need to slow the flow down due to the exception strength of the Venus's ionization chamber. The control knob though will prove very useful in helping to fine tune your preferred pH level so that you get the exact same pH level every time you use your Venus.


UltraWater Filter
The Venus comes with the same UltraWater filter that is available in other top AlkaViva models. This filter is the ONLY ionizer filter capable of removing most contaminants to 99.9%. More Details Here.
Replacing the UltraWater filter is so much easier with the Venus. One simply opens the filter compartment door, pushes the filter down on its spring loaded pedestal, and pulls the filter out. New filter installation is literally a "SNAP".


For Venus Water Ionizer Specifications Please Click Here

This web site is not intended as medical advice. Rather is is meant to demonstrate that aging can be slowed and even reversed and that great health achieved when the most fundamental nutritional needs of the human body are met. Always consult a medical doctor or other medical professional when you consider it necessary.